Going up: With an energy- and resource-efficient story addition, an interdisciplinary team from Karlsruhe Institute of Technology (KIT) has won an international university building contest. Their RoofKIT project won the Solar Decathlon Europe 21/22, the world's biggest university decathlon for sustainable urban building and living. The team of researchers, students, and external collaborators built a full-size demonstration unit on the Solar Campus in Wuppertal.
"That was a fantastic performance by RoofKIT. The team did a very impressive job of showing how teaching goes hand in hand with research and innovation at KIT, and in particular how committed our students are to assuming responsibility for sustainable development. We're very proud of this great team," says Professor Alexander Wanner, Vice President for Higher Education and Academic Affairs at KIT. "I congratulate the team of students, professors Dirk E. Hebel and Andreas Wagner, the project partners, and everybody else who was involved." This was the first time since 2009 that a German team won this contest. For Professor Dirk E. Hebel and Professor Andreas Wagner from the Department of Architecture at KIT, who accompany the project, the win is confirmation of their efforts to establish KIT as an important location for sustainable building. "We couldn't be prouder of this unbelievable team and of a generation of students who are aware of their responsibility for the future."
Building in Harmony with Natural and Technical Cycles
In times of climate change, resource shortages, and growing demand for housing, how can architecture do justice to its responsibility toward society? KIT's interdisciplinary RoofKIT team looked into this question and came to the conclusion that designs and buildings need to harmonize with natural and technical cycles. To show how building can be energy- and resource-efficient, recyclable and socially cohesive, the team of KIT researchers and students and external experts designed an additional story for a 19th-century building, Café ADA in the historic center of Wuppertal, and built a full-size demonstration unit.
Architecture and Innovation Key to the Win
On the last day of competition, architecture and innovation were the decisive disciplines for RoofKIT, which was proclaimed the winner at the closing ceremony of Solar Decathlon Europe 21/22 on June 24. The VIRTUe team from Eindhoven took second place, and third place was shared by AuRA from Grenoble and SUM from Delft. The university competition, held in Germany for the first time and sponsored by the Federal Ministry for Economic Affairs and Climate Action, hosted 16 teams from 11 countries who came to Wuppertal to plan, build, and operate solar buildings with a neutral or even positive energy balance.
New Housing in Cities
"Away from linear and temporary solutions to an endless and circular approach emphasizing aesthetics, durability, and recyclability" is how Professor Hebel describes the project's underlying idea. "Adding floors to and renovating existing buildings gives us the opportunity to create new housing in cities while intensively using solar energy," says Nadine Georgi, architecture student at KIT and member of RoofKIT.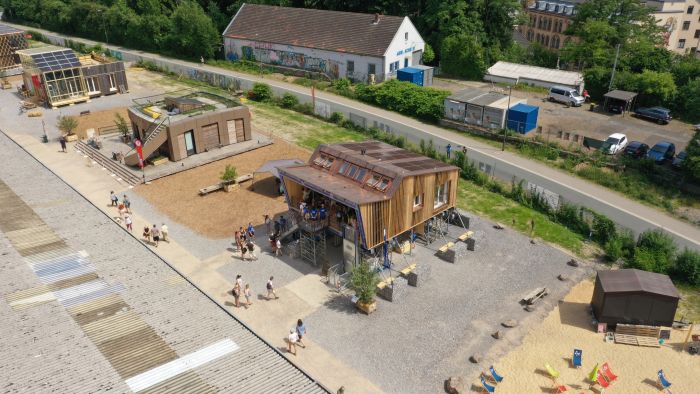 Photovoltaics on Building Envelopes
The additional story designed by the KIT team consists of wooden residential units arranged around an atrium, with storage space and technical infrastructure centrally located. RoofKIT uses prefabricated wooden modules, which ensure precise construction. Only monomaterials and no material mixtures are used in the project, in keeping with the vision of cities as stores of material to which people can help themselves instead of using new raw materials. To ensure the full recyclability of the building and its materials, no paints, finishes, adhesives, foams or wet sealants are used. Photovoltaic systems on the building envelope cover all energy needs, including appliances and electromobility.
More than 100 KIT students from various departments have worked on the project since 2020 under the direction of Professor Dirk E. Hebel (Sustainable Construction) and Professor Andreas Wagner (Building Technology). RoofKIT built its demonstration unit on the Solar Campus in Wuppertal in May and June 2022. The unit was open to the public during SDE 21/22. RoofKIT plans to bring the assembled building to Karlsruhe so it can also demonstrate there how sustainable urban building and living according to ecological, economical, social, and aesthetic criteria are already possible now.
More information
RoofKIT
Solar Decathlon Europe 21/22

Being "The Research University in the Helmholtz Association", KIT creates and imparts knowledge for the society and the environment. It is the objective to make significant contributions to the global challenges in the fields of energy, mobility, and information. For this, about 9,800 employees cooperate in a broad range of disciplines in natural sciences, engineering sciences, economics, and the humanities and social sciences. KIT prepares its 22,300 students for responsible tasks in society, industry, and science by offering research-based study programs. Innovation efforts at KIT build a bridge between important scientific findings and their application for the benefit of society, economic prosperity, and the preservation of our natural basis of life. KIT is one of the German universities of excellence.