"Open Science" is to make science more transparent and democratic and to open up new perspectives for researchers. Technology assessment experts of Karlsruhe Institute of Technology (KIT) and the Austrian Academy of Sciences have studied what precisely is to be understood by "Open Science" and whether the high expectations are realistic. The results are published in TATuP – Zeitschrift für Technikfolgenabschätzung in Theorie und Praxis (journal of technology assessment in theory and practice).
[…]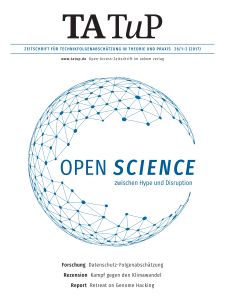 Latest issue of TATuP on Open Science (in German only).
Being "The Research University in the Helmholtz Association", KIT creates and imparts knowledge for the society and the environment. It is the objective to make significant contributions to the global challenges in the fields of energy, mobility, and information. For this, about 9,600 employees cooperate in a broad range of disciplines in natural sciences, engineering sciences, economics, and the humanities and social sciences. KIT prepares its 23,300 students for responsible tasks in society, industry, and science by offering research-based study programs. Innovation efforts at KIT build a bridge between important scientific findings and their application for the benefit of society, economic prosperity, and the preservation of our natural basis of life. KIT is one of the German universities of excellence.